Sheet Metal Installation Tool
For Drilling and Driving Sheet Metal Screws
Stop Wasting Time Changing Bits! With this innovative tool workers can pre-drill and drive screws with one durable installation tool.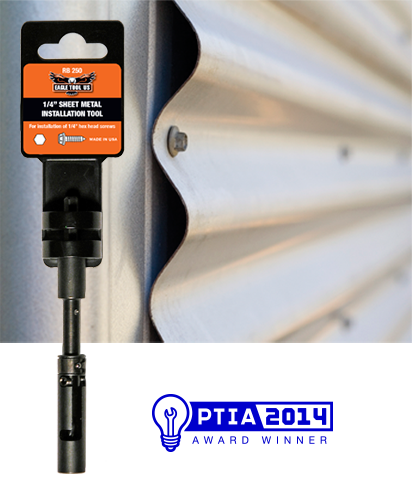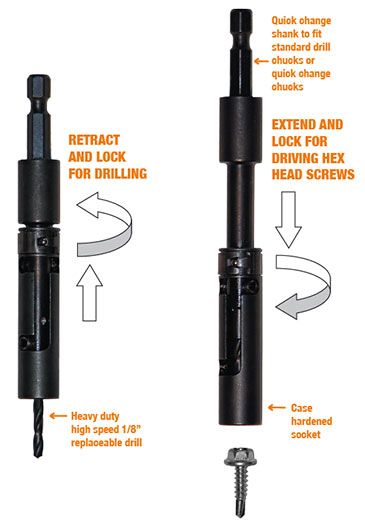 SAFETY AND EFFICIENCY IN DRILLING AND DRIVING SHEET METAL SCREWS

Current tools for drilling and driving sheet metal screws have two or three separate pieces that are prone to getting lost or falling on workers below.
Problem solved. The Sheet Metal Installation Tool is conveniently slid and locked out of the way of the drill. No need to remove from driver, creating a much safer environment for workers below. Less time and money is spent on replacing lost tools.


Applications:
Steel roofs and siding
Electrical
HVAC
Plumbing
Any installation job with plate or sheet metal
Features:
Replaceable Heavy Duty High Speed Drill Bit
Durable Case Hardened Socket
Quick-Change Shank; Fits in any standard quick-change driver or standard chuck
Replacement Drill Package:
Includes three replacement heavy duty high speed drill bits
One replacement allen wrench
Three replacement set screws
PTIA Award Winning Review!
We love the idea of being able to drill a pilot hole and install a fastener without having to switch out accessories. You know at the end of a hot summer day when there's just a few fasteners left to install, your sweaty hands are going to lose the grip as you try to switch from drill bit to nut driver. You'll save yourself some frustration with the All in One Drill and Drive Tool.

1/4" Sheet Metal Installation Tool

For installation of 1/4" hex head screws
Heavy duty high speed 1/8" replaceable drill, case hardened socket, quick change shank to fit standard drill chucks or quick change chucks
Item # RB250
5/16" Sheet Metal Installation Tool

For installation of 5/16" hex head screws
Heavy duty high speed 1/8" replaceable drill, case hardened socket, quick change shank to fit standard drill chucks or quick change chucks
Item # RB312
Sheet Metal Installation Tool Accessories Kit

Includes Allen wrench, 3 drill bits, 3 set screws, and storage case
Item # RA125