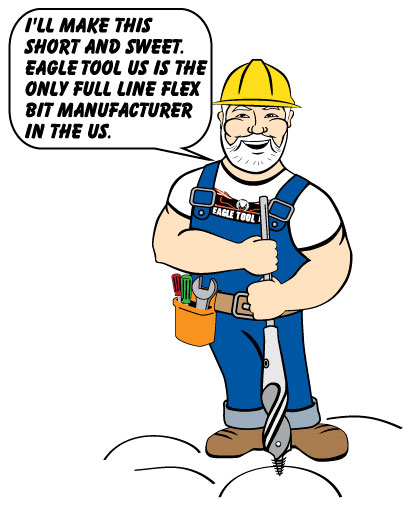 About
Eagle Tool US is an American Manufacturer of Cable Installer Tools
When you order from Eagle Tool US, you will find quality, American-made tools. Each product in our innovative line of commercial-grade tools is designed especially for efficiency, versatility, and durability on any job-site.
Eagle Tool US has been a leading American innovator and manufacturer of installer tools for over 18 years. We pride ourselves on our ability to solve problems in the field which lead directly to higher productivity, better workmanship, and lower costs.
In 1976 we opened shop as The Repair and Machine Shop. "The Ram Shop" focused on thinking outside the box to find solutions to our customers manufacturing problems. From removing flash from tens of thousands of plastic balloon forms to grooving stainless battery tops for Stealth Bombers and everything in-between, we found many solutions and made many customers happy. This mindset continues with Eagle Tool US today.
In the early 90's we started working on a line of Cable bits, solving the many manufacturing and quality consistency problems that are associated with this specialty bit. Always moving forward with new and better processes, taking full advantage of the newest technology, and incorporating it in to tried and true manufacturing processes, our Cable Bits today are top of the line and used throughout the country.
In 2009 with our invention of the "Switch Bit" line and the "Sheet Metal Installation tools" we launched the Eagle Tool US Brand of products. These products solve problems for end users and retailers while our in-house manufacturing keeps cost low and quality high for all of our OEM and Retail customers.
Always moving forward, in 2013 we introduced the "Quick Switch Hex Adapter" and are currently working on several new products for Cable Installers and Electricians. With innovative thinking with a focus on Integrity we keep moving forward looking for problems to solve.
Click Here to learn more about our unique line of installer tools.
Click Here to find out how to contact us or place orders.