Dirt Auger System
For Augering and Installing Wire or Pipe Under Sidewalks and Driveways
| Item #: | Type: | Application: | Head Diameter: | Shank Diameter: | Length: |
| --- | --- | --- | --- | --- | --- |
| ETD750 | Dirt Auger Head Only | Dirt | 3/4" | 1/4" | Interchangeable |
There are two ways commonly being used to auger under sidewalks and driveways for installation of wires and plumbing. The first involves auguring under the concrete using a water jet which creates a large void under the concrete adding to the possibility of cracking and making a very soggy work area. The second involves a hammering action either using an expensive hydraulic tool or a manual ramming tool, both of which can only be used by digging a very long ditch perpendicular to the walk.
Our new dirt auger system requires only a minimal starting and ending hole on either side of the structure. Due to its flexible spring steel shank this bit can be curved and aimed in the direction needed and drills only a large enough hole to pull wire or pipe back through. No need for a costly hydraulic system or a sledge hammer, a standard power drill does all the work.
Tested in the field by a 15 year veteran of the cable installation trade.
This bit has interchangeable shank lengths and can be extended using standard flex bit extensions.
Applications:
Cable Installation
Landscape Lighting
Sprinkling Systems
Landscape Feeding Stakes
Features:
Fish hole for easy retrieval of wire
Custom heat treated drill bit designed for organic material
Long taper for easy retrieval
Interchangeable lengths
Custom heat treated spring steel shank for optimum memory
PTIA Award Winning Review!
Looking at the possibility of a water jet or hydraulic hammering system compared to simply bringing the Flexible Dirt Auger along with the drill I'm already carrying is a no-brainer. Add in the fact the the bit is interchangeable with other shafts from Eagle Tool US or can reach further with a standard cable bit extension, and you've got one heck of an innovative accessory for installing cable under concrete!

---
How To Use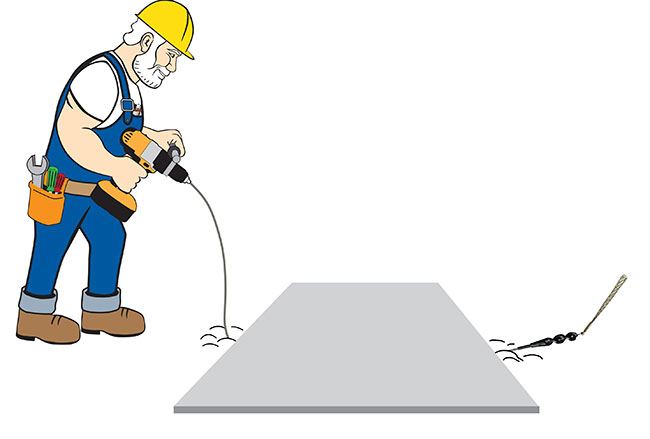 ---